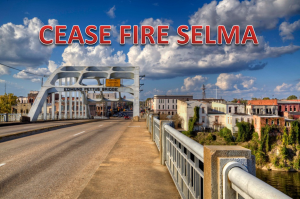 Enough is Enough.  One of the greatest educators to walk the halls of Selma High School, Dr. Donald Jefferson, taught me that life is 10% what happens to you and 90% how you respond to it.  In a foreshadow that now sends chills through my body, one of my favorite Hip Hop artists, The Game, called for a Cease Fire in L.A. after a 7 year old boy was killed in a gang-related shooting.  He asked that for the remainder of the Holidays that everyone call it a truce… at least for the holidays… stop the violence.  I am taking a page from the Game's playbook, but what I am asking for is permanent.
WHAT HAPPENED:   On the front page of the Selma Times Journal, I read about an 11th grader at my beloved high school being killed in a cell phone robbery.  [That was a little watered down].  Let me say it bluntly:  A BEAUTIFUL YOUNG WOMAN, WAS SHOT IN THE FACE BY TWO MALES, DURING A ROBBERY THAT RESULTED IN THE TAKING OF A CELL PHONE.  LIKELY THE SAME CELL PHONE THAT POLICE USED TO TRACK DOWN THESE HEATHENS.
I am pissed off at this.  Every male in (or from) Selma, or should I say, every swinging **** should be ashamed. I am ashamed and embarrassed.  Somehow Somewhere, we have failed.  In our beloved city, we have raised a crop of wild young boys that have so little value for life, for women (the source of all life), that a young woman suffered the fate of being shot in the face and left for dead, over a damned cell phone!  There is something terribly terribly wrong with this picture, and I, from 700 miles away here in Baltimore, call for a Cease Fire! CEASE FIRE SELMA!!! Not just for the holidays, but for good.
HOW I AM RESPONDING:  I am pledging my own time, talent and money to start a CEASE FIRE SELMA Campaign.  I am making a sacrifice and I will be working with local community leaders, so called gangsters, up and coming hip hop artists, and anyone willing to assist.  Within 24 hours, that is by 5:00am EST on December 24, 2013, I will be putting up a website ceasefireselma.org where the movement will begin.
Until then, please share this post and inform anyone who will listen that as of 5:00am on December  23, 2013, I have declared that the City of Selma is under a CEASE FIRE, during which time, not one of our children shall loose their lives to violence.  Here is YOUR call to action:
1.  Pick up your phone and ask Mayor Evans and members of the Selma City Council to open City Hall, and pass an emergency resolution, within the next 24 hours, calling for a CEASE FIRE in the name of the young woman recently murdered.
2. Share this post on your social networks.
3. Inform everyone you talk to that the city of Selma, Alabama is under a Cease Fire.
4. If you own a business within the Selma City Limits, display the phrase CEASE FIRE SELMA prominently in the Window or Outside of your business.
5. If you do not see a CEASE FIRE SELMA sign at a store or business, DO NOT SUPPORT THAT BUSINESS.
6. GOALS FOR THE SELMA CITY POLICE: Crack down on guns.  In the year 2014, resolve to collect 1,000 illegal guns off the streets of Selma, and if this goal is not met, fire the police chief.
7. Church leaders and clergy, make your congregations aware that a cease fire has been called in Selma Alabama, and ask them to visit ceasefireselma.org
8. On Christmas Eve, take the time to visit ceasefireselma.org to see how you can become involved.
9. Selma Times Journal:  Spread this News…. anyway you see fit.
Stay tuned. More to come.